The morning SPC outlook maps looked like this: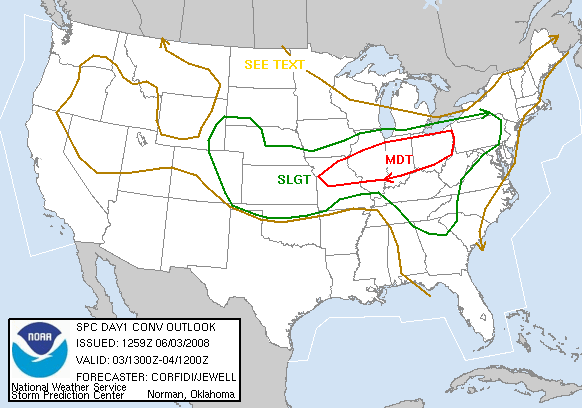 SUMMARY:
1000C – Daily Briefing:
1030C – Left Ogallala, NE (Super 8 Motel) – fueled partially ($4.289/gallon!) – Dove S to Imperial,NE via Grant, NE. An illegal U-turn with 3 highly 'decorated' vans attracts the attention of a Nebraska state patrolman and we spend about 20 minutes roadside while Woody successfully negotiates for 3 written warnings (one per van).Exciting!
1338C – S on NE61, crossing the NE/KS border and mving to Bird City, KS.
1354C – We observe a large. reddish dust devil — several hundred feet high! — to our SE as we come into Bird City.
1355C – We jog west on US36 then S to Goodland, KS on KS27. MD1179 is issued.
1501C – Lunch at the Goodland,KS Subway. I am 20th in line. Ugh!
1542C -We continue west on I-70 (about mile 437), crossing into Colorado.
1647C – After lunch we stop S of Arriba, CO. EB storm outflow catches us, bringing huge plumes of black dust with it.
1652C – Jog west 1/4 mile then south
1700C – Our storm weakens and decayes into a loose cluster of cells aligned SW-NE
1702C – Headed E on US40/287.
1752C – Held for road maintenance about 15 minutes. Took "Little (Out)House on the Prairie" photos, as some of our group take a pit stop at a Porta-Potty along this lonely stretch of highway.
1753C – Exit Kit Carson, CO, on the east side of town
1828C – Exit Cheyenne Wells, CO after a bathroom break at "Penitentiary Park" baseball field. Coldest toilet seat of the trip, so far! (about 45 degF!)
2010C – Blasting S on US83, trying to outrun a storm. We get spectacular dusty outflow video, including a drive in near-zero visibility. Coal dust blowing off a pasing train adds to the dusty darkness.
2030C – E os KS4. The sun makes a brief cameo appearance.
2230C – Arrive at motel in WaKeeney, KS as the storm does. We get strong winds, heavy rain, and a good lightning show as the storm pounds the hotel while we unload our bags. After we check in, we double back one exit to grab a late dinner of omlettes, acon, eges, and our breakfast treats.
ESTIMATED TRAVEL

| START TIME | START ODOM. | START LOC. |
| --- | --- | --- |
| 1030C | ______ (T1 Chase Van) | Ogallala, NE |
| FINISH TIME | FINISH ODOM. | FINISH LOC. |
| 2230C | ______ (T1 Chase Van) | WaKeeney, KS |
| ELAP. TIME | MILES TTL. | REMARKS |
| 12:00 | _____ | ______ |